Featured Pet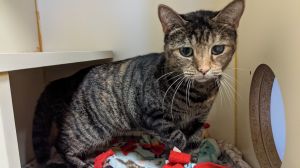 Java is a 4 year old spayed Tabby who is very beautiful and sweet. She's a bit lonely sitting in a cage, and comes up to the bars to look at anyone who passes by her corner with her big green eyes! If you are interested in Java and would like to meet her, feel free to visit Lebanon County Humane Society during our open hours. View full description »
Subscribe to Our e-Newsletter
SPECIAL UPDATED ANNOUNCEMENT 03/28/20:
Please click here for details on our current adoption process. - - - - -
Thank you for considering adoption of your next best friend from the Humane Society of Lebanon County. We have many wonderful pets who can't wait to join your family. Please note that we try to keep our website as current as possible and update it daily. If you would like to check and make sure that an animal you're interested in is still at the shelter, please call (717) 628-1369 or email info@lebanonhumane.org to find out more! Potential adopters are welcome to stop in our shelter anytime during open business hours. Please note in order to help find you the best match, we are no longer doing adoptions or meet and greets after 4 pm (6 pm on Wednesdays). Thank you for understanding. Unfortunately because of the high number of cats currently at our shelter, we continue to be very limited in the number of cats we are able to accept as strays or surrenders at this time. Please reach out to other local shelters and rescues. We sincerely apologize for this temporary inconvenience.
Humane Society of Lebanon County 2018 Pet Lover's Club Members
In Memory of Bella & Steve Milosevich
Attorney Edward & Mrs. Cheryl Coyle
In Memory of Brad S. Beamesderfer
Veterinary Medical Center of Lebanon, Inc.
602 Cornwall Road, Lebanon, PA 17042
Annville-Cleona Veterinary Associates, Inc.
1259 E. Main Street, Annville, PA 17003
Potena Physical Therapy
32 W. Penn Avenue, Cleona, PA 17042
About HSLC
"The object of the society shall be to provide effective means for the prevention of cruelty of animals; to enforce all laws designed for their protection and to secure in a lawful manner the arrest, conviction and punishment of all persons violating such laws. The society through dissemination of literature and employment of other methods, shall undertake to instruct the people to be kind and considerate in their treatment of animals."
- May 15, 1939 -
Our Vision
"To foster a humane community that understands and values the ways in which animals enrich our lives."